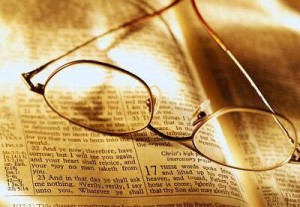 As soon as one of the youth said she would like to look at passages in the Bible that are hard to believe, I began to worry.  Was this a way to challenge my interpretation?  Would they take my views home to their disapproving parents? I was afraid they wanted the black and white positions of which John spoke. Up to that time I had spoken of faith enabling us to live in an uncertain world, pretty much like John and Bob did in last week's comments. Now I was experiencing the stupid paranoia I have often claimed has made too many pastors cowards. I prepared the following guidelines with some uneasiness, only to be surprised when at the wonderful conversation that developed. You can check it out in the first comment.
  READING THE BIBLE  
There is no doubt that parts of the Bible are hard to believe. However, reading the Bible with intelligence helps a great deal. Here are some guides that might be helpful
The Bible is a library with different kinds of books arranged by category. Be aware of what kind of literature you're reading. Don't treat poetry as history.
In order to be completely honest, the Bible often records traditions with opposing viewpoints. For instance, histories written by the prophets say most kings were scoundrels. The Chronicles written by the priests treat their monarchs much better.
The Bible also records the development of ideas over centuries. For example, the Old Testament prohibits eating all sorts of food that the New Testament says are all right.
You also have to remember the Bible was written thousands of years ago. You must make adjustments to understand what it means today. For instance, its cosmology has humans living on a flat world covered by a dome over which God lives in heaven. Remember the Bible writers had no idea of science. You should never read it as a science textbook.
Sometimes the Bible gives you options. Its four gospel writers saw Jesus differently. John especially pictures Jesus unlike the other three.
The Bible often has many versions of the same event. Some times people act as if you must accept only one of them. For instance, they think you have to believe Moses crossed the Red Sea just like in the movie "The Ten Commandments". The Bible offers different reports. One of them says it was the Reed Sea, a marsh that the Israelites could walk on. The heavy chariots of the Egyptians got stuck in the mud so they were drowned when the tide came back in.
Even translations make distinctions. Some are actually paraphrases in which the writers translate according to their theologies.
Many texts talk about events that happened centuries before they were written down. You should take that into consideration as you read. Some were oral stories that were constantly changed before they were written down.
Most Christians have always understood that we do not have to believe every word in the Bible. They never would have written creeds to state what is essential if they did.
We should always remember the really important parts of the Bible have to do with its teachings about who we are, what we believe, and what we should do. Sometimes people seem to concentrate on unimportant parts, so they do not have to listen to what God is asking them to do. . The really tough parts are things like "Love you enemies", "Trust God to care for you", "Share what God gives you", and "Only worship God".