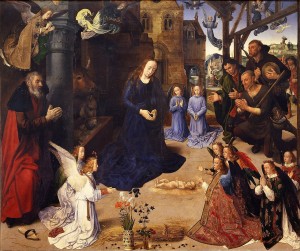 Shortly after we were married, Faith Ann and I purchased a small Renaissance painting of Christ's nativity, Hugo van der Goes' "The Adoration of the Child Jesus." It is a triptych done on three wooden panels so it can sit on a table or altar.
Jesus occupies the middle of the center panel, lying on the bare ground all alone. It is as if immediately after he was born, those present paid him naked on the earth and stepped back to worship. And there they are kneeling in a circle all around him, Mary and Joseph, angels of all sorts and sizes, kneeling, standing, and flying, in plain outfits and richly brocaded robes. And, of course, the shepherds as if they came with a shout falling over one another straining to see or smiling impishly as they pray in their tattered clothes. One has a bare knee showing through his torn trousers.
The side panels always puzzled me, however. They were filled with imposing, dignified figures that joined in the adoration, men on one side, women on the other. For the life of me, I could not identify any of them. They certainly were not part of the Bible story. (To see the side panels of the painting, click here.)
Luckily the painting kept popping up in my life. I would be reading a book and there it would be. I soon learned the four very dignified standing figures were saints: Antony the hermit monk, Thomas the Roman theologian on the left panel, Martha the worker and Mary Magdalene the prostitute on the right. Obviously they did not observe the original birth but as happened so often in old painting later saints surrounded the mother and Christ. It was as if they heard the story so often it had become such a natural part of their lives, and they had become part of the scene.
It was not much later that I discovered the five remaining black garbed figures worshipping so devoutly on their knees in the forefront of the panels were the family o the man who paid to have the scene painted. He was a Medici banker, Tomassco Portinari, who appeared with his sons on the left while his wife Marie worshipped with their daughter on the right. You could almost hear him telling van der Goes, "Paint me in and my family also, I want to be there. Paint us on our knees."
I really came to appreciate that feeling a few years ago. I walked into a room in a famous museum and there it was, the original. And it was huge. Portinari and his family were bigger than life. One had the feeling that despite the distance of 1500 years he had really placed himself in the story with the shepherds and angels and Wisemen and parents.
It happened a lot at that time. You'll be looking at a picture and suddenly realize that a Wiseman is the prince's grandfather or a shepherd is a town character. Strangely, although the desire to be there is very strong, not all appear so devoutly worshiping as the Portinaris. Sometimes the donor will be standing very proud and haughty, hardly paying any attention to the event. Sometimes he will have his head in his hands as if pondering trying to figure out what this is all about. I can think of one where the artist has himself looking right out of the painting at the observer with a look that seems to say, "I had to paint this scene and I wanted to paint myself in, but I want you to know I don't believe a bit of it." Sometimes, he is holding his hands to his face as if to say this is more than I can handle and sometimes one is even hanging his head in sleep.
But they are all there as if to say this is a reality that confronts us in our world. In one sense, to know us well you must understand how we respond this event.
It seems to me we are about the same thing this evening. As we sing, pray, and listen, we are there at that first nativity. We are painted in. Indeed to some extent we have to come here to be painted in, telling the artist, "Put me there, too."
It would be fun to share how we might ask an artist to paint us in. Certainly, we would not all chose to be so devoutly on our knees adoring the Christ as the Portinaris. Some of us certainly would want to be pictured as thoughtful considerers, trying to put it all together. Other as cynics, here because our family wanted us to come. And certainly some of us would be sleepers at this hour of the night. One of my friends said he would like to be a clown.
Perhaps that is the real you, the way you would have yourself painted around the manger. We are always asking, "Who am I?" Perhaps the way you see yourself responding to the Christ Child is the real you.
Wait a minute. Perhaps the way other people would paint you at the manger is the real you. Perhaps the way that your spouse or your children or your parents or your neighbor or your fellow workers paint you at the manger is the real you, when you really get down to it,
No, wait again. The real you is not how you would paint yourself, or how your neighbor would paint you, We are here this evening to say to one another, "The real you is how God paints you at the manger. No matter what you think or the world says, you are loved. You are each painted in the nativity scene as someone God loves. He loves you so much he comes as a little baby to rescue you. To rescue you and us from tyrants and dictators, oppressors, poverty, hunger, loneliness, cynicism, fears, sin, death.
As Paul tells us, God is on our side; nothing can ever separate us from the love of God.
As much as I love the van der Goes triptych, it does not say enough. It is not enough to paint the baby Jesus lying passively on the ground accepting our praise and adoration. There are other paintings in which Mary holds Jesus, and he reaches out. He reaches out to grab Mary's dress or her breast or touch a beard on the chin of a Wiseman or a lock of hair on a shepherd. That's the Christmas message: the Christ Child reaches out to worshipers, skeptics, sleepers. No matter how much we pretend that he has nothing to do with us, he reaches out– a baby trying to grab our finger and hold on. And we all know that is a very strong grip. Those small seemingly weak fingers hold on. And he never lets go.